A Look Back at the 1973 Alamogordo Tigers Track and Field Team brings us to the first of many track and field state trophies to be awarded to Alamogordo High School under the leadership of Coach Bob Sepulveda who led the team from the late 60's to the mid 90's. Under his leadership the track and field team won 5 state title, 4 in a row in the mid 90's and countless 2nd, and 3rd place state trophies as well as district titles. 1973 was a defining year in the path upward for Alamogordo High Track and Field.
The 1973 Alamogordo Tiger Track and Field felt the pressure of District Wins each of the 3 preceding years. From a team of only 13 just 3 years ago, the 1973 squad consisted of 32 team members.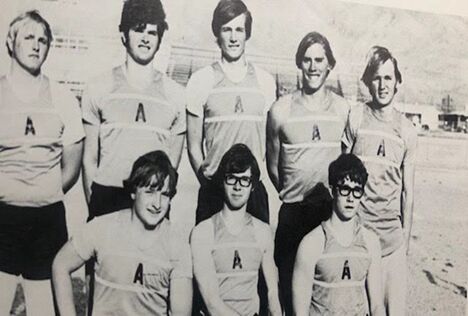 (Photo above 1973 Alamogordo High Track and Field Team Fieldsmen L-R: Norman Avila, Terry Rich, Bob Tuttle. Backrow: Ron Gourley, Steve Fredrick, Carl Hutchison, David Burch & Tim McMurry.)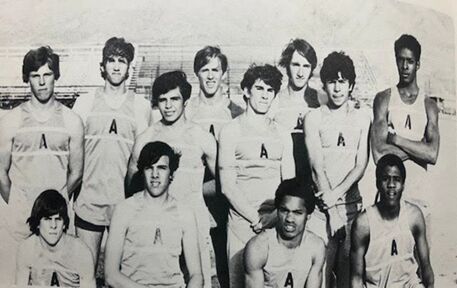 Photo Above 1973 Alamogordo High Track and Field Team Sprinters front row: Will Henley, Paul Najera, Ken Washington, David Finley. Back row: Dale Norman, Dennis Baca, Larry Vorquez, Pat Telles, Jim Sanders. Third Row: Joe Wright, Scott Hutt and Chuck Wood.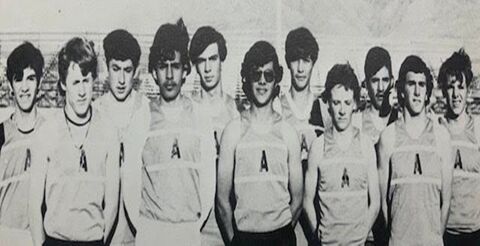 Photo Above: 1973 Alamogordo High Track & Field Distance Runners front row: David Dunlop, Russell Golightly, Tom Woolworth, Brad Person, Charles Racoosin. Second row: David Sanchez, Steven Garcia, Terry McLean, Eddy Garcia, Robert Golightly and Ken Burns.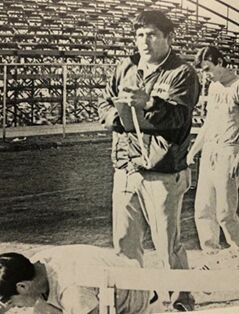 Photo in story above Coach Bob Sepulveda in 1973 with the stopwatch checking his teams times. His saying prevails today, "the stopwatch never lies, run, run, run"
The Alamogordo Tiger Boy's took several medals at the White Sands Rolla Buck Invitational Meet of 1973. At that time girls did not participate in interscholastic sports but all of that was in the process of changing as GAA was phasing out and interscholastic sports for girls would begin the next year via title IX at Alamogordo High.
Alamogordo Boy's who placed at the 1973 Rolla Buck White Sands Invitational Sponsored by the Lions Club included:
Terry Rich, 3rd Place Pole Vault
Chuck Wood, 1st Place, 220 Yard Dash
Dale Norman, 2nd Place 120 High Hurdles
Will Henley, 2nd Place, 100 Yard Dash
Robert Golightly, 3rd Place, Mile Run
Steve Frederick, 3rd Place, Shot Put
Mark Taylor, 2nd Place, 440 Yard Dash
Scott Hutt, 3rd Place, 880 Run
Art Keller, Ken Washington, Chuck Wood, Jimmy Sanders, 4th Place, Medley Relay
School records were established in the mile relay and the 180- yard low hurdles Saturday during the White Sands Relays sponsored by the Tiger Track Team and the Evening Lions Club of 1973.
Art Keller flashed over the hurdles in 19.6 in the preliminaries and went on to win the event and he was named the "Outstanding Athlete" for the Relays.
The Tiger mile relay team ripped off that distance in 3.24.7 to break the school record set by Bowie in 1972 during the Relays when they ran it in 3.26.2. Relay team members were Ken Washington, Dennis Baca, Mark Taylor and Jimmy Sanders.
The Tiger 440 Relay Team took first when they ran it in 43.6 Art Keller, Ken Washington, Chuck Wood and Jimmy Sanders were on the team. Keller also took first in the 100- yard dash. Chuck Wood took 1st in the 220 dash. Jimmy Sanders took 1st in the 440 dash. Carl Hutchison tied for1st in the High Jump. Steve Frederickson took 1st in the discus. Robert Golightly placed 1st in the two-mile run….
Meet results showed the Tigers with a team 1st place win with a final total of 112 ½ Bowie came in 2nd at 46 ½ and Cobre came in 3rd with a 41 ½.
The District Title in 1973 went again to the Alamogordo Tigers for a 4th consecutive year in a row. The local paper of the time the Alamogordo Daily News Reported:
1972/73 District Track & Field Results May 6th, 1973 Headline Alamogordo Sports Section…"Thinclads Get 135 Points to Cop 4th District Win"
"Tiger Thinclads walked… or ran… jumped or threw further and faster than anyone else in the district 3AAAA at Las Cruces on Saturday, to take their 4th District Win in a row under Coach Bob Sepulveda. 12 of the Tigers placed 1st
Place in the meet competitions as the Tigers Topped 135 points for a 1st Place finish. Mayfield scored 94 points for a 2nd Place Finish and Las Cruces scored 75 points for a 3rd Place Finish."
1973 Alamogordo High School Boys Track and Field District Medalist included:
Carl Hutchison, 1st Place, High Jump
Steve Frederick, 1st Place, Discus
1st Place, 440 Relay Team
2nd Place, Shot Put
Art Keller, 1st Place, 100 Yard Dash

o 1st Place, 880 Relay Team

o 1st Place, Mile Relay Team
o 2nd Place,120 Low Hurdles
Jimmy Sanders, 1st Place, 440 Relay Team
Larry Vazquez , 1st Place, Mile Relay Team
Dale Norman, 1st Place, High Hurdles
Mark Taylor, 2nd Place, 440
Scott Hutt, 1st Place ,880
Chuck Wood, 1st Place220

o 2nd Place, High Hurdles

Robert Golightly, 1st Place, 2Mile
Dennis Baca, 2nd Place,220

o 5th Place, 120 High Hurdles

Brad Pierson, 2nd Place, 2 Mile
Charlie Racoosin, 4th Place, 2Mile
Art Keller, Ken Washington, Chuck Wood, Jimmy Sanders, 3rd Place, Medley Relay
Will Henley, 3rd Place,220

o 4th Place, 100 Yard Dash

Terry McClean, 5th Place, Mile
Terry Rich, 5th Place, Pole Vault
13 Tigers qualified to attend the state meet in Albuquerque May 11th and 12th, 1973.
May 12th, 1973 is a day that will live in the memories of most of the class of 1973 as that is the day the Boys brought home a state trophy. The headlines across the state raged on about the upset and surprise that Alamogordo pulled off a 2nd place showing at the state level.
"The Alamogordo Tiger Thinclads surprised most of the track experts when they pulled into the 2nd Place position during
the State Track Meet to capture a big trophy at Albuquerque"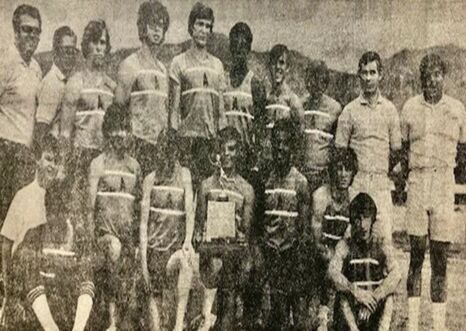 Photo Above 1973 2nd Place State Track and Field Trophy and Winning Team: Back L-R: Coach Dick Strong, Coach Jack Geron, Dale Norman, Steve Frederick, Carl Hutchison, Jimmy Sanders, Scott Hutt, Mark Taylor, Coach Jack Narrell, Head Coach Bob Sepulveda. Front L-R: Manager Pat McMurry, Art Keller, Robert Golightly, Brad Pierson, Dennis Baca, Ken Washington and Chuck Wood. (Photo Courtesy Coach Bob Sepulveda The Early Days Book 1- Alamogordo News 5/17/73)
Defending State Champion Hobbs took an early lead and placed 1st to win the state. Alamogordo Tigers placed second in the state meet with 48 points followed by Carlsbad in 3rd place and Clovis closing out with a 4th place win.
Individual State Medalist for the 1973 State Track Meet from the Alamogordo Tiger's Track and Field Team included:
Steve Fredericks, 1st Place, Discus, 159'10"
Robert Golightly, 1st Place, 2 Mile Run ,10.31.1
Ken Washington, Larry Vazquez , Mark Taylor & Jimmy Sanders 1st Place, Mile Relay, 3.25.4
Jimmy Sanders, 3rd Place, 440,49.8
Dale Norman, 5th Place, 180 Low Hurdles, 21.3
Art Keller, Ken Washington, Chuck Wood, Jimmy Sanders, 3rd Place, 440 Relay, 48.4
Scott Hutt, 4th Place, 880,2.00
Chuck Wood, 3rd Place, 220, 22.6
Carl Hutchison, 3rd Place, High Jump, 6'.0
Art Keller, 4th Place, 100,10.1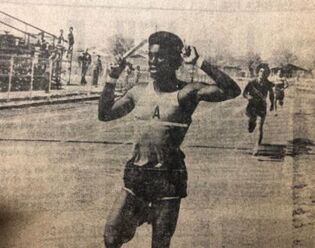 (Photo Above Art Keller Team Member 1973 Track & Field State Medalist Alamogordo Tiger Track Team of 1973.)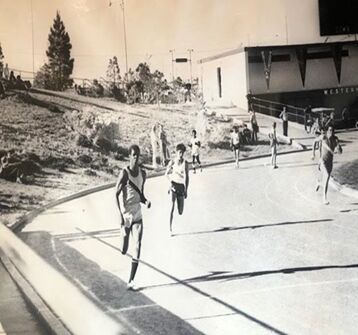 (Photo Above Jimmy Sanders at the New Mexico State Track Meet Placing 1st in the 1 Mile Relay with team members Ken Washington, Larry Vazquez and Mark Taylor. (Photo courtesy Coach Bob Sepulveda Collection)
Alamogordo High School Girls competed in the state GAA event that same weekend. 59 Girls attended the 6th annual GAA track meet representing Alamogordo. Seventh to Twelfth graders took part in three classes: Senior, Junior and Intermediate. 31 Junior High, 21 Mid High and 7 High School girls entered.
The Alamogordo Girls took 2nd in the Senior High level, 3rd in the Junior Division and 3rd in the Intermediate Division.
The coaches were Marilyn Sepulveda, Fran Stirman and Helen Reed.
Source and certain Excerpts from Alamogordo News referenced in Coach Bob Sepulveda The Early Days Book 1 from 1973 Available Locally at Roadrunner Emporium, 928 New York Avenue Alamogordo, Tularosa Basin Historical Society on White Sands Blvd, and on Amazon in 36 Countries.
https://2ndlifemediaalamogordo.town.news/g/alamogordo-nm/n/29443/alamogordo-sport-history-look-back-1973-alamogordo-tigers-track-and-field