AlamogordoTownNews.com asked a few of Alamogordo's movers and shakers for their thoughts of wisdom or reflection as we move into 2022.
From Mayor Payne and Sherrif Black with his wife Lorie Black, to those in the business and cultural arts community 2021, was a year of survival. 2022 promises to be a year of rebuilding, reconnecting and renewal.
We begin with words of inspiration and hope from the honorable Mayor Susan Payne, Mayor Elect of Alamogordo – "Make 2022 an intentional year of kindness. Make it a point to take a moment to thank a small business owner or a server, cashier, laborer, law enforcement, military, or other workers. Tell them how much you appreciate them.
Look for the blessings in any situation. They are there if we will just pay attention. Let's not dwell on what we cannot change but rather let's be the change. Find an area of service and get involved in making our community the best it can be.
I want to wish all of our citizens a Happy New Year and I look forward to serving you in 2022!" –Susan Payne
We then progress to…
David & Lori Black – Otero County Sherrif and the Executive Director, Flickinger Center for the Performing Arts– "Live life in 2022 with no fear and a lot of faith! Hold friends and family close and treat them with kindness and respect that they deserve! And last if you are bored or lonely, connect with your community and give of yourself. We need you."
and expand with thoughts and reflections of those from the non-profit community, the creative arts community, small business leaders and more…
Pam Gordner – Otero Hunger Coalition- "It is in the joy of giving that we are truly blessed."
Peggy Pennington – Owner of Surplus and Stuff, Alamogordo –"Wisdom for the new year comes from ups and downs, success and failure falling down and crawling back up…for 2022 for many it is the year of crawling back up."
Claudia Laya & Trent Shelton – Elite Memories Boutique, New York Avenue, Alamogordo – "You don't have to be perfect to help people. All you have to do is be real."
Becky Botsford Hournbuckle -Artist/Educator Alamogordo/Cloudcroft– "Don't be afraid to experiment with the creative ideas in your head. After all, you are just practicing, so nothing is a disaster, just step toward a beautiful creation."
Alice Weineman -Owner Victoria, 913 New York Avenue– "Simply, be kind!'
Brenda Barber – Pins and Needles, New York Avenue, Alamogordo – "Those who sleep under a quilt, sleep under a blanket of love. Be patient."
Rosa Miranda – Seamstress Roadrunner Emporium, 928 New York Avenue, Alamogordo – "2021 was a rough year for many people. My hope is that 2022 is a year of health and happiness."
Musician and Retired Teacher – Don Thorpe – "What I have missed during the pandemic is to be able to see smiles and do hugs. My wish for 2022 is a return to a healthier world so we can see smiles and do hugs."
Maggie Nowell – Owner, Blush Beauty Bar, 10th
Street, Alamogordo – "Stay hopeful. Re-center often. Aim to finish better this year but be compassionate and forgiving of yourself anytime you miss "the shot," and extend to others the same grace."
Couy Griffin, Otero County Commissioner – "It is better to trust in God than to have confidence in man. I pray your New Year is blessed."
David Quinlan, Owner Fatwood BBQ, Alamogordo – "In 2021 we lost two people we were very close to. We lost my father-in-law due to Covid and a few weeks before that a close friend and employee of ours at Fatwood BBQ was in a tragic car accident. It made us pause and think, a lot.
In 2021, we were able to take that extra trip, spend an extra day with family and do quick trips to see the in-laws and it was so comforting to know that when our father-in-law passed pretty quickly, that we saw each other 7 times last year.
So going into 2022, we've made a specific commitment to spend more time with the people we love, visit family, and not get so consumed with owning businesses that we forget to live life and make memories. The length of life is not promised so we have to spend more time with family and friends so we have no regrets when it's too late."
Cindy Strong, Board President of the Flickinger Center for the Performing Arts -"The staff and volunteers at the Flickinger Center for the Performing Arts are looking forward to a positive and exciting 2022. We so enjoy seeing the look of delight on the faces of our patrons at our shows. We especially enjoyed the enthusiasm of the children who were able to attend a special showing of Mariachi Christmas. We have 5 more shows scheduled January thru April. We love sharing the history and enjoyment of this Alamogordo treasure with our patrons, Happy New Year."
Chez Sanchez- "With all that last two years have brought to us all, try to do this in 2022; do one kind thing for someone who you just don't know each month. Give blood, donate to a charity. Just one thing, then maybe we can learn that we are all in this together.
Anthony Lucero, Radio Personality for KALH Radio provided us some levity in his response to a look forward to 2022 with his personal 2022 New Year's Resolution:" Wake up half an hour earlier so I can hate you more." (Meant in jest, we are sure.)
And finally, Rene Sepulveda and I, Chris Edwards, as co-owners of Roadrunner Emporium and the AlamogordoTownNews.com via 2nd Life Media; we want to thank our community partnership of over 72 artisans and entrepreneurs that we mentor and work with daily. We appreciate the opportunity to be a part of your lives and are privileged to be allowed to partner and to be a part of your lives.
To the many community partnerships in the business and arts community we have met along this journey, we are humbled daily, by your support, and are proud to be members of the creative class of Alamogordo.
2022 is a year of rebuilding. Rebuilding, repairing, and building bridges of understanding across a diverse range of people and beliefs. If we can play some small part of building Alamogordo forward, we are humbled to be a part of that journey and the year 2022 is a chance for renewal and further steps forward.
We look forward to the challenges and opportunities ahead! You can count on us being here to help tell the story of Alamogordo's past, present and future. Happy New Year 2022!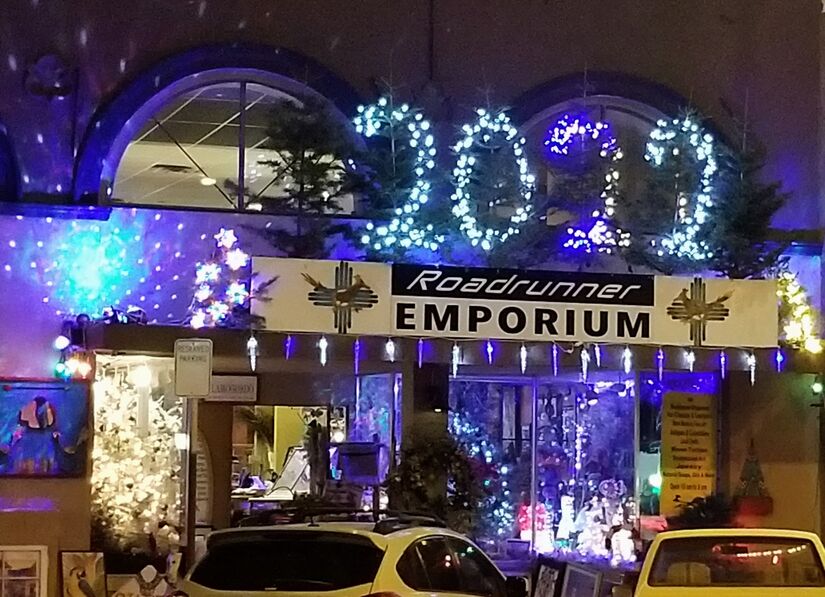 STAY CONNECTED! SUBSCRIBE TO FREE EMAIL UPDATES FROM 2ND LIFE MEDIA ALAMOGORDO