Make Thursday night, a complete night of arts and culture, live music, free foods and fun in Alamogordo.
Start the night at 5 pm at the Granada Shopping Center, East 1st Street Alamogordo. On March 17th from 5 pm to 7 pm in the main Gallery Room Adjacent to Clay Time Pottery & Ceramics there will be an exhibition of the original works of Chris Ward. Food, refreshments and meet the artist will be happening. Chris Ward has been involved with art since he was a child winning a second-place school competition at 11 years old. Watercolors and pastels were his medium.
Next jump in your car and drop by Green Health CBD, for a St. Patrick's Day themed Vibe@5 event hosted by the Center of Commerce. Live music by James Ethington, education, door prizes, food, beer & wine, and networking.
Finally end up at Roadrunner Emporium on the historic New York Avenue. The party at Roadrunner runs till 9 or possibly 10 pm. Featuring 4 musical talents performing for FREE.
Roadrunner Emporium is hosting its St Patrick's Day New Issue Release Party for Influence Magazine that is FREE and OPEN to the public 6 pm until? Come see Alamogordo's largest St Patrick's Day tree of leprechauns and Irishness. Wear your best Irish Green and join in the fun. The evening will showcase 4 live performers singing and playing live instrumental music from 6 pm to 9 pm. Picacho Brewing Company will be serving wonderful free appetizers, free beverages and more.
A live remote from KALH radio hosts will be out front of the shop at 928 New York Avenue 6 pm to 8 pm, interviewing our local celebrities, artists, Influence Magazine article contributors, and more.
Meet the editor; Meike Schwarz and the publisher; Cedric Fisher. Meet some of the artist of Roadrunner Emporium and New York Avenue to include spinning artist Linda Swenson spinning yarns on location, meet Delia Lopez Holloway a local acrylics painter whose works have been on display throughout New Mexico, Linda Howard whose collectibles from Capitan have been showcased for generations.
Coach Robert Sepulveda the most award-winning track and field coach in Alamogordo's history will be on site as featured in Influence Magazine. Also on site will be the legendary owners of New York Avenue Art and Music Studio; Lydia Aspen and Emmanul Renteria to bring wonderous smiles to anyone in their presence.
Come join the FREE fun, the live music, be entertained, enjoy some free snacks and beverages, and shop on New York Avenues crossroads of art, culture, music, history and commerce 928 New York Avenue's Roadrunner Emporium 6 pm to 9 pm.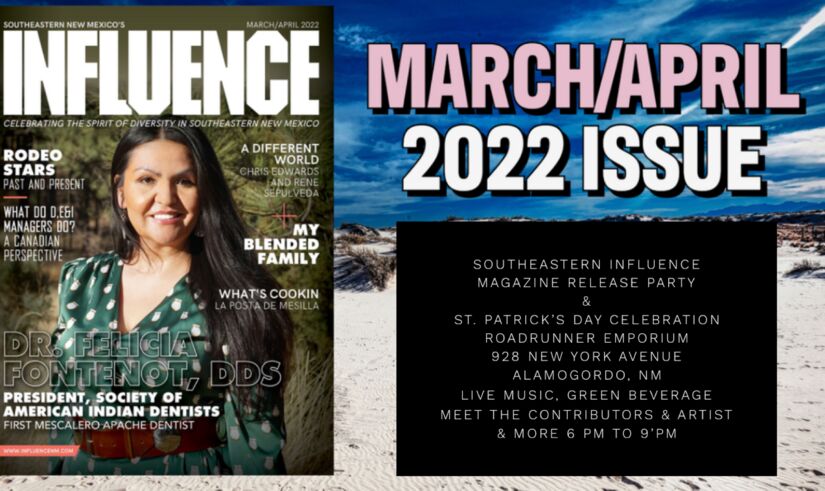 Live singers include Lenore Whitney, Influence Magazine showcased performers and more. Come on down 6 pm to 9 pm Thursday.
STAY CONNECTED! SUBSCRIBE TO FREE EMAIL UPDATES FROM 2ND LIFE MEDIA ALAMOGORDO