While a small group of vocal locals are myopically (without thinking about anything outside your own situation) or short sightedly focused on not wearing masks or fighting against vaccines a real undercurrent of change is happening, and this vocal group needs to step back and look at the bigger world of issues that are about to it taxpayers on the horizon. This is not some esoteric idea from California but being tested not too far from here in New Mexico.
At least two New Mexico cities – Las Cruces and Santa Fe – are already considering, or moving forward with, targeted guaranteed basic income pilot projects
The economic impact of the COVID-19 pandemic prompted state and federal governments to send direct payments to citizens and is now fast tracking the dialog around a Basic Universal Income that in the past was considered a fringe idea. The newest debate on the horizon could center on guaranteed basic income, a policy that provides low-income residents with regular financial payments.
The argument:
In our country today, 40% of earners make $20K or less a year. What's even more shocking is that 40% of earners actually make less than the 1968 minimum wage.
In Portland Maine, for example, the poverty wage for 1 adult with 2 children is $9 per hour. The state's minimum wage is $10 and the living wage is estimated to be at approximately $29 per hour. The Personal Care and Service industries in Maine, which represents a large part of unskilled employment, is at or below the poverty level at an average of $23,288 annual income for an adult with 2 children. The required annual income for this demographic is estimated to be $59,101 before taxes.
Maine is not alone. Almost every area of the United States shows that workers are earning well below what is considered a livable wage.
MIT Defines a living wage via its living wage index for New Mexico as 28.65 an hour for a single adult with a child. Their living wage calculator methodology is the hourly rate that an individual in a household must earn to support his or herself and their family. The assumption is the sole provider is working full-time (2080 hours per year). The tool provides information for individuals, and households with one or two working adults and zero to three children. In the case of households with two working adults, all values are per working adult, single or in a family unless otherwise noted.
The state minimum wage is the same for all individuals, regardless of how many dependents they may have. Data are updated annually, in the first quarter of the new year. State minimum wages are determined based on the posted value of the minimum wage as of January one of the coming year (National Conference of State Legislatures, 2019). The poverty rate reflects a person's gross annual income. We have converted it to an hourly wage for the sake of comparison.
https://livingwage.mit.edu/states/35
An Explanation of a VESTED Economy and how everyone earns a livable wage…
In a vested economy, everyone earns a livable wage. No one is left behind. No one is underpaid. The technical explanation is that a vested economy is one in which the market surplus is distributed to the individual laborers who produce the surplus through an equitable process. Individuals become vested by successfully completing one or more requirements. For example, someone can be vested by completing an educational requirement or serving in the military. The non-technical explanation is that vested economics provides a metaphorical sponge for absorbing an economy's excess supply of goods and services and a distribution mechanism called National Vesting for apportioning that excess back to its producers in an equitable manner. In other words, no one has to earn a poverty wage ever again.
The economic impact of the COVID-19 pandemic prompted some countries to send direct payments to citizens and is now fast tracking the dialog around a Basic Universal Income that in the past was considered a fringe idea.
In an attempt to put low-income workers on more solid financial footing, New Mexico lawmakers in recent years have approved a minimum wage increase and a paid sick leave requirement, among other policies.
Several legislators said they're planning to watch the local-level efforts play out before possibly moving forward with a statewide proposal.
Santa Fe's guaranteed basic income pilot program that will be funded by a national advocacy group as a "stability stipend." It will provide 100 people under age 30 who have children and are attending Santa Fe Community College with monthly payments of at least $400.
Several other cities nationwide are also moving forward with similar programs that follow on the heels of Stockton, California, which provided 125 low-income people with $500 a month for two years.
New Mexico has long struggled with high poverty rates and more than 926,000 state residents – or about 44% of the state's total population – were enrolled in Medicaid as of May.
While state revenue levels have been on the upswing since plummeting at the start of the COVID-19 pandemic, providing just 10% of those residents with $100 monthly financial payments would cost roughly $111 million annually.
But there could be different types of funding mechanisms available if New Mexico were to pursue such a policy, as Alaska has long offered its full-time residents an annual dividend based on the investment earnings on mineral royalties. The dividend amount for 2020 was $992 per person.
The Albuquerque Journal reported:
"Las Cruces City Councilor Johana Bencomo, who is leading the push for a basic income program in the southern New Mexico city, described the traditional approach to addressing poverty as "patronizing and patriarchal," and said cash payments allow recipients to use the money as they deem fit.
"I do believe that poverty is a policy choice," said Bencomo, who is also executive director of a nonprofit group that advocates for immigrant and worker rights.
She also cited the impact of cash assistance programs funded by federal relief dollars during the pandemic, which included one-time payments of $750 for those who didn't qualify for a federal stimulus check."
During the presidential run Andrew Yang the Silicon Valley Billionaire brought the topic forward as a credible discussion siting the transition of business to a technology driven economy that he believes will displace up to 24% of the population from present employment types. Times and jobs are changing and while we are myopic in our arguments on masks, vaccines and the school system approach the rest of the world is moving forward in ways that could leave Otero County in the dustbowl of poverty unless elected leaders begin recruiting tourism, cultural arts and technology industries to the area to compete.
With a solid business base of livable wage employment, a Universal Basic Income policy is a non-starter. However in areas of poverty without employment opportunities for livable wages or where there is huge income inequity with a shrinking middle class the theory takes hold and government is forced into seeking alternatives or action.
The action voters need to demand now is that the city commissioners and county commissioners partner with the state and federal governments and do real business recruitment and put ideological social issues aside and drive business opportunity. November 2nd several commissioner seats and the mayors office will be on the ballot.
Consider this when voting. Register and get out and participate. Let your voice be heard at the ballot box.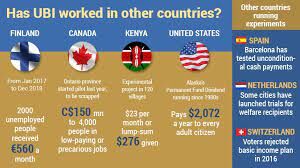 STAY CONNECTED! SUBSCRIBE TO FREE EMAIL UPDATES FROM 2ND LIFE MEDIA ALAMOGORDO