New York Avenue's Cultural Arts and History District via New York Avenue Art and Music Studio and Roadrunner Emporium, Otero Artspace. and other unique business interests, are helping to foster the growth of artisans, artists', and entrepreneurs. Another important mission of this district's success in building a bridge of culture to commerce, is the support to local authors via book launches, author showcases, author workshops and assistance in marketing and showcasing of local authors.
Over the last several months a plethora of authors have been featured and/or conducted "meet the author events" and have scheduled book signings. Others have conducted readings at the venues of New York Avenue and at Otero Arts on Indiana Avenue, and yet another new publication of grand quality to rival New Mexico Magazine has launched, off of Alamogordo's New York Avenue, "Southeastern New Mexico's Influence Magazine."
Alamogordo has a variety of stories to tell from a variety of sources and viewpoints. Recently showcased authors offered a spectrum of pros from factual history to children's books, faith based, fictional snippets and short stores and self-help to a magazine that celebrates culture and diversity.
Local authors of recent include…
Josette Herrell
Local Historian and Tularosa Basin Museum Board Member Josette Herrell is a newly published author of children's stories. Her first work to appear on New York Avenue is titled "Timmy's Big Adventure." The illustrations to this wonderfully fun children's book were completed by local artist Diana Sill who is known locally for her "Create the Great Masterpiece" Classes she conducts monthly at Roadrunner Emporium and other locations within the region. Ms. Josette Herrell has lived in Southern New Mexico since 1948. When a relative sent her an old box of family photos, she started putting pictures and stories together. Knowing those stories could be lost to future generations, she decided to write a book about family. Her first "family" book was published in 2019. Although Timmy's Big Adventure is a children's bool based on a family event. At the age of 81, Ms. Herrell continues to enjoy writing family books and supporting the history of Alamogordo. Ms. Herrell's passion for history is on display daily when visiting New York Avenue as much of the preservation of its history and stories is thanks to her commitment to the Alamogordo community.
BJ Oquist
Barbara J Oquist grew up on 120 acres of farmland in Missouri. This acreage she explains was truly a "family farm" meaning it was complete with a garden, pets, farm animals and more. As an adult she worked for the state of Minnesota for 26 years. After her and her husband's retirement they relocated to New Mexico to enjoy the sunshine and natural wonders of the southwest. Between her and her husband they have 5 children and eleven grandchildren. She was inspired to write a children's book after attending a writing group at Christ Community Church. Her locally marketed book is titled, "Farmer Jon's Very Special Team." Her first array into the world of children's books is a charming fictional children's book in which two horses fall in love and is based upon a team of horses that Oquist's father owned when she was a child. She told the Alamogordo New in an interview, "he got them when they were young, and it talks a little bit about their training process and some of the things he learned along the way while he was training them." Mrs. Oquist's book was also illustrated by Alamogordo artist Diana Sill.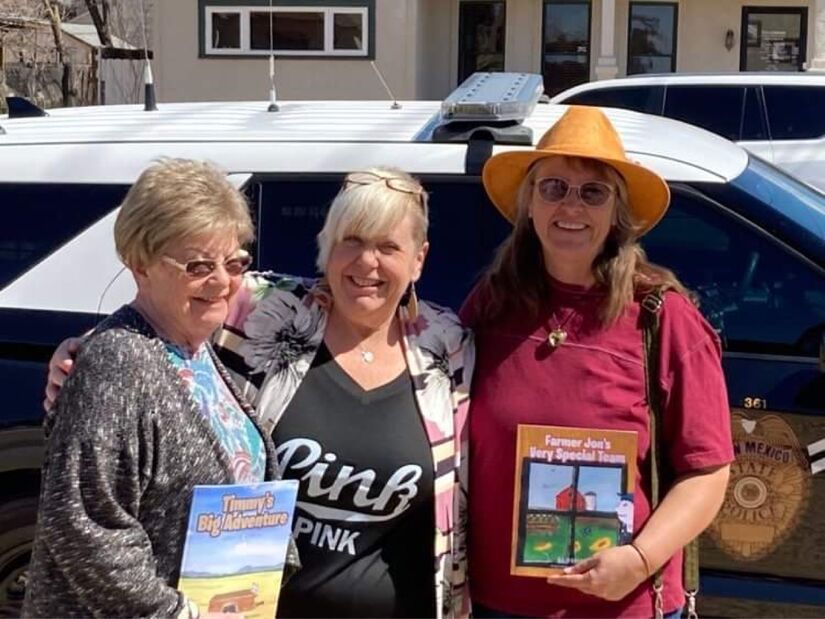 Dennis Swift
Locals in Alamogordo may remember Dennis Swift for when he was a student at Alamogordo High. During Dennis's tenure at Alamogordo High, he won multiple Cross Country and Track and Field medals over the years and received multiple academic awards including recognition in the National Honor Society. Today, Dennis Swift is the pastor of the Church of All Nations in Portland Oregon He regularly guides group tours of South American archaeological sites. Dennis received multiple degrees including his B.A. and M. Div. from Point Loma Nazarene University and his Th.D. from the University of South Africa. He pursued Indian studies at the University of New Mexico and Western New Mexico University. Dennis has pursued archaeological work in Peru, Bolivia, Mexico, Cambodia, Turkmenistan, Israel, and the American Southwest. He has traveled to Peru over a dozen times. Dennis gained national notoriety for his book, "Secrets of the Ica Stones and Nazca Lines" available online and locally on New York Avenue at the Roadrunner Emporium.
The thesis of the book is Proof that Dinosaurs and Man Lived Together. It is a fascinating collection of information obtained from ancient Peruvian cultural artifacts which offers a theory that men and dinosaurs lived together in South American within the last 2,000 years. The author, Dennis Swift, first came upon the Ica Stones more than thirty years ago; he was tempted to dismiss the stones because he had been taught that men and dinosaurs had missed each other by about 65 million years. However, their presence in Peruvian museums intrigued him. The stones in the museums show carvings of men and various animals, including extinct fish and llamas, and dinosaurs. Although the carvings are supposed to be hundreds or thousands of years old, the detailed positions and features of the dinosaurs were not known to modern science until recently. Dennis with his theory has been featured in many media outlets including Coast to Coast AM and with William Shatner on the Discovery Channel & National Geographic's, Weird or What!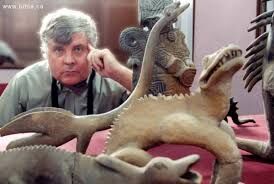 Robert M. Pollack
Locally some know Robert M. Pollack for his musical CD's of gospel songs, others for his evangelism and others for his writings. Roadrunner Emporium on New York Avenue and a host of other area businesses offer the works of Mr. Pollack. Mr. Pollack was born on November 1st, 1944, in Oakland California to Manuel and Julietta Pollack, and he was raised in Albuquerque New Mexico. Robert was number 13 of a family of 15. He graduated from Albuquerque High school in 1963 and joined the Air Force that same year. He spent time in Viet Nam, all over Southeast Asia, Europe, and Egypt, as well as numerous places in the United States. Robert retired from the Air Force in 1983. He received Jesus Christ as his personal Lord and Savior in 1980 and was baptized with The Holy Spirit while on tour in Egypt. He speaks and also writes in tongues. He's turned his spiritual writings into an art form. He loves the written word. Robert writes and sings his own songs where ever the Lord leads him. He has written around 750 songs. Robert has eight children, six Grand Children and 17 Great Grand Children, and still counting. He is married to Concepcion Pollack.
Mr. Pollack's book available at Roadrunner Emporium is titled, The Sixth- and Seventh-Day Man, A Trilogy."
This trilogy of 3 books in one begins Book One: The Time of Adam and Eve…
In chapter 1 of the book of Genesis, God the Father creates a male and a female and blesses them and tells them to go out and replenish the world. He gives them everything His hands have created. These people of the Father God almost destroy themselves and create a weapon that, when discharged, covers the earth with a thick cloud and pigments their skin white. God the Father rests on the seventh day. In chapter 2 of the book of Genesis, the Lord God forms a man on the seventh day, places him in a garden, and forbids him from eating of the tree of life. When Adam and Eve are cast out of the garden, they come face-to-face with the Sixth Day Man. The Seventh-Day Man Adam and his wife Eve, their children, and their decedents are dark skinned and clash with the white race of the Sixth Day people. Adam and Eve, who were formed on the Seventh Day by the Lord God, live on the Land of Adam where gopher wood grows. The Sixth-Day Man lives in the city of Eden, which is ruled by Emperor Rama Dan Doo. They worship the god Ramah. Adam and Eve worship the Lord God.
Book Two: The Time of Enoch
This book continues the battles that the descendants of Adam and Eve must endure because of the color of their skin and their love for the Lord God. They are enslaved and treated horribly by the white-skinned people of the world. The city of Eden and the great city of Enoch are built on the backs of the children of Adam and Eve.
Book Three: The Time of Noah
The days of Noah mirrors our time in brutality and crime. The book is set into the future with anti-gravitational vehicles called click-clacks and carts. Noah and his wife, who is his sister, along with his father and grandfather, return to the Land of Adam, and God tells him to build an ark. When Noah tells the world what God has planned, he and his family are laughed at, but Noah continues to build with help. He has encounters with Satan, who tries to discourage him. This book may be a bit intense for the younger readers. The scriptural verses in The Sixth- and Seventh-Day Man are taken from the King James Version of the Holy Bible.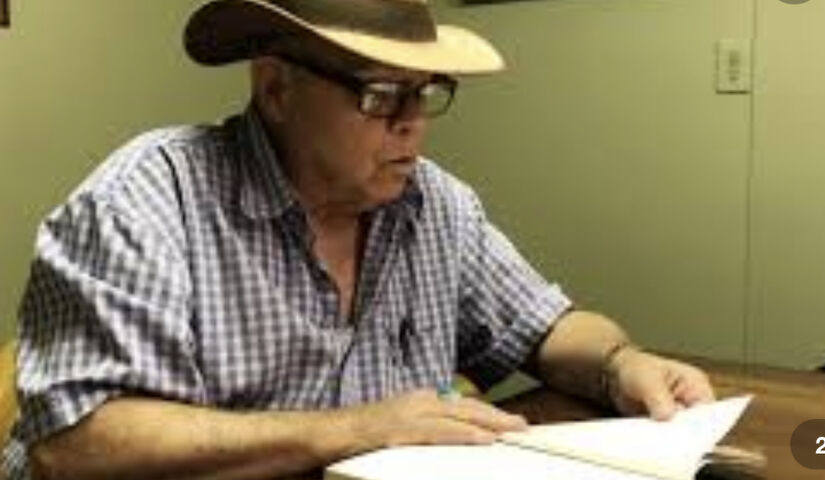 Rochelle Willams
Rochelle Williams is an accomplished published writer of short stories and snippets that have been printed on a variety of forums. In partnership with Otero Arts and the New York Avenue business of Roadrunner Emporium Ms. Willams' first complete book a collection of snippets is about to come to life. The book entitled, "Acts of Love and Ruin" will be publicly released on April 30th. "Rochelle Williams is a writer with remarkable talent. She weaves the emotional lives of her characters with a palette of words that results in a true literary art form. Her stories range over life in the way a painter would range over a canvas–brilliant and colorful with striking designs. Here is an author everyone should read. A fine collection of stories." Mark Conking -Author of Prairie Dog Blues and Killer Whale Blues
Rochelle Williams lives in southern New Mexico. Her fiction and poetry have appeared in, Chokecherries, Desert Exposure, Earthships: A New Mecca Poetry Collection, Menacing Hedge, The MacGuffin, Packingtown Review, and other journals. Her fiction has won two Southwest Writers Workshop competitions, Recursos de Santa Fe's Discovery Reading Series, and Women on Writing's Spring 2020 Flash Fiction contest. She holds an MFA in fiction from Vermont College of Fine Arts and is working on a novel about the French early modernist painter, Pierre Bonnard. In addition to writing Ms. Williams is a photographer. Rochelle Williams' photograph titled "Winter, Half-Moon Bay" was featured along with multiple other artists works, recently at the Otero ArtSpace Winter Showcase of regional artists.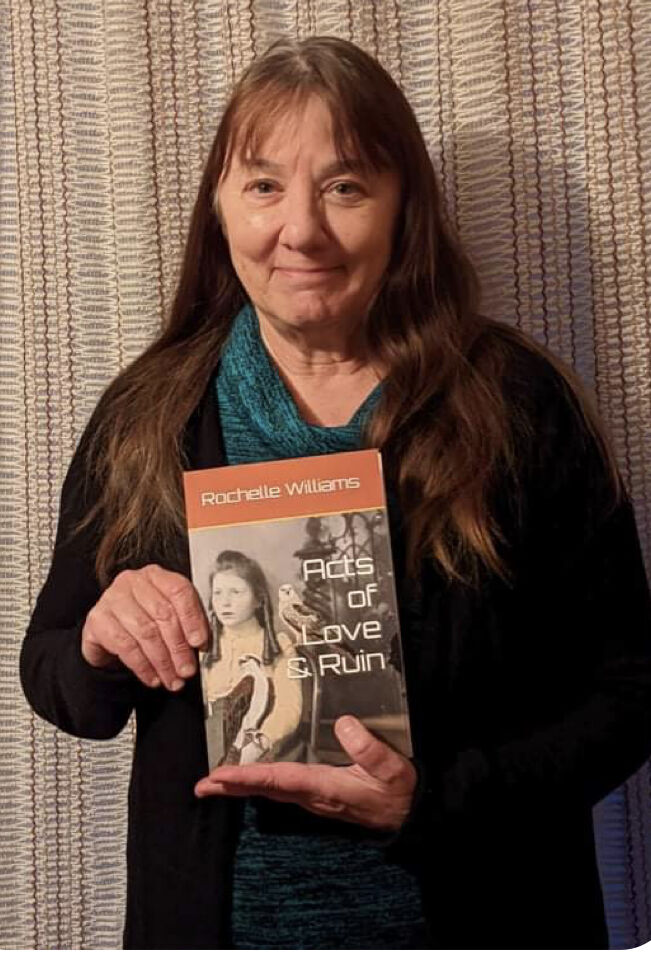 Chris Edwards & Rene Sepulveda
Authors, Chris Edwards and Rene Sepulveda have created a partnership of written works around the athletic programs of Alamogordo High School. The central character to their book series is Coach Bob Sepulveda and his success as the winningest coach in Alamogordo History. However, the book series digs into the years prior to Sepulveda's arrival to include the formation of interscholastic sports in Alamogordo in 1912 to present day. In addition to the history of Alamogordo sports this team of authors has crafted books around the world of positivity as a self-help series titled, "90 Days to a Glass Half Full Lifestyle", the team also have crafted several books around self-publishing, a public policy book on government overreach in licensing and is finalizing a book on social media marketing.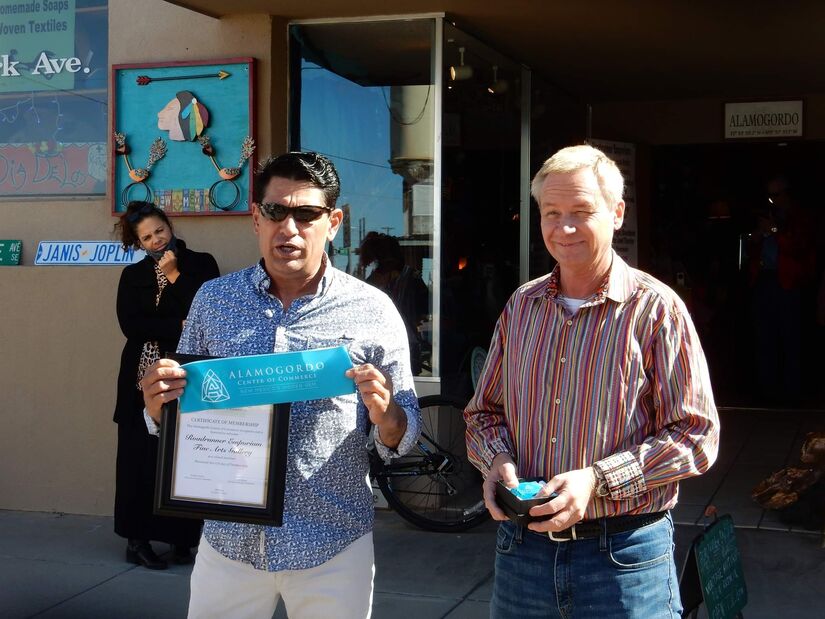 Meike Schwarz and Cedric Fisher, editor, and publisher of Southeastern New Mexico's Influence Magazine
Meike Schwarz, editor, has been a real estate professional for over 23 years, 10 years as owner/broker of Welcome Home Realty on New York Avenue, Alamogordo. In 2021, Meike embarked on a new venture combining her love for people and storytelling: becoming editor of Southeastern New Mexico's INFLUENCE Magazine. Meike hopes to highlight the best and brightest community leaders, business icons, and diversity figures both inside and beyond Alamogordo.
Cedric D. Fisher, publisher, is a 40-year career publishing executive, a leading publishing authority, author, and instructor having lead publishing operations in New York City, Los Angeles, Philadelphia, and San Antonio. Cedric's a professional speaker, and he and his team also conduct online writing and publishing workshops. He is the CEO and founder of Cedric D Fisher & Company Publishers.
Launched from New York Avenue, Alamogordo, Southeastern New Mexico's Influence Magazine mission is to elevate the influential forces in Southeastern New Mexico arenas to promote diverse agendas with multimedia features on family, business development, culture, economic development and environmental awareness, fashion, music, religion, inspiration, and educational, artistic, and technological achievements, supplier/workforce diversity and business development. The inaugural issue was launched in January. The April/May issue is soon to be released with a planned community release party scheduled for St Patrick's Day, March 17th at Roadrunner Emporium, 928 New York Avenue. This release party will showcase the wonders of the newest edition, live music and green libations will be served and more.
Each of the books and magazine showcased above are available at Roadrunner Emporium on New York Avenue.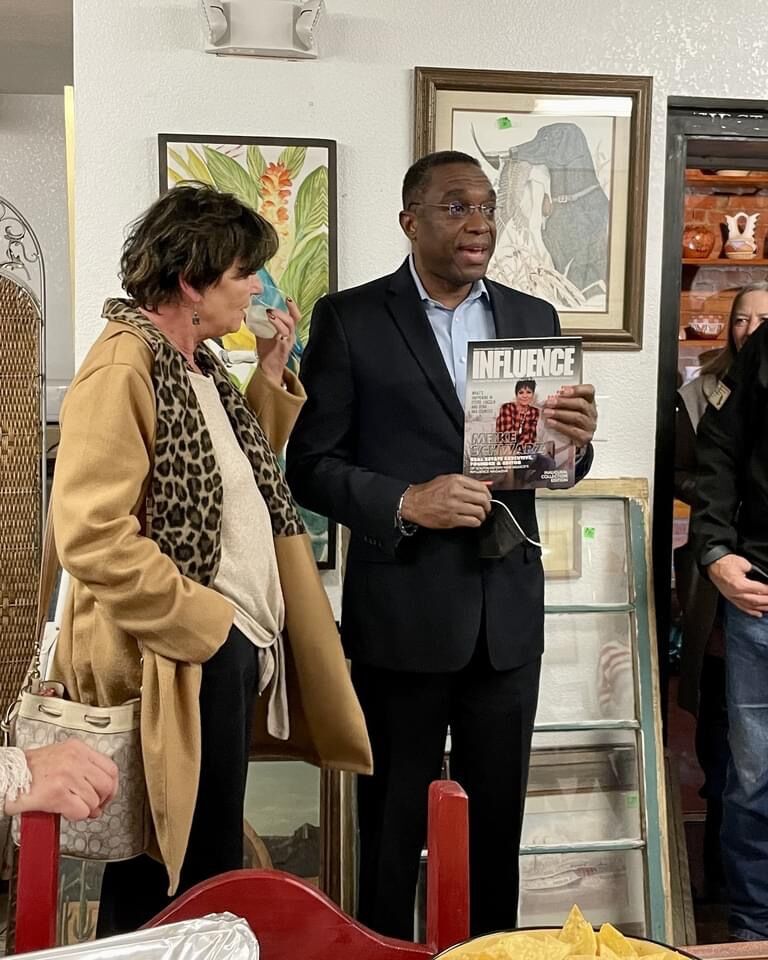 New York Avenue is fast becoming the rededicated crossroads to cultural arts, history and commerce. Come on down and support the hundreds of local small business entrepreneurs, artisans and AUTHORS represented in the variety of shops on Alamogordo's Main Street New York Avenue. Alamogordo's New York Avenue is Alamogordo Main Street.
STAY CONNECTED! SUBSCRIBE TO FREE EMAIL UPDATES FROM 2ND LIFE MEDIA ALAMOGORDO
I'm interested