Support 2nd Life Media Alamogordo.SUPPORT
10-03-2022 8:21pm
AlamogordoTownNews.com Commentary & Fact: "There is NO communication regarding the public requesting Mr. Melton to place the resolution on the agenda."

Chris EdwardsEditor
Image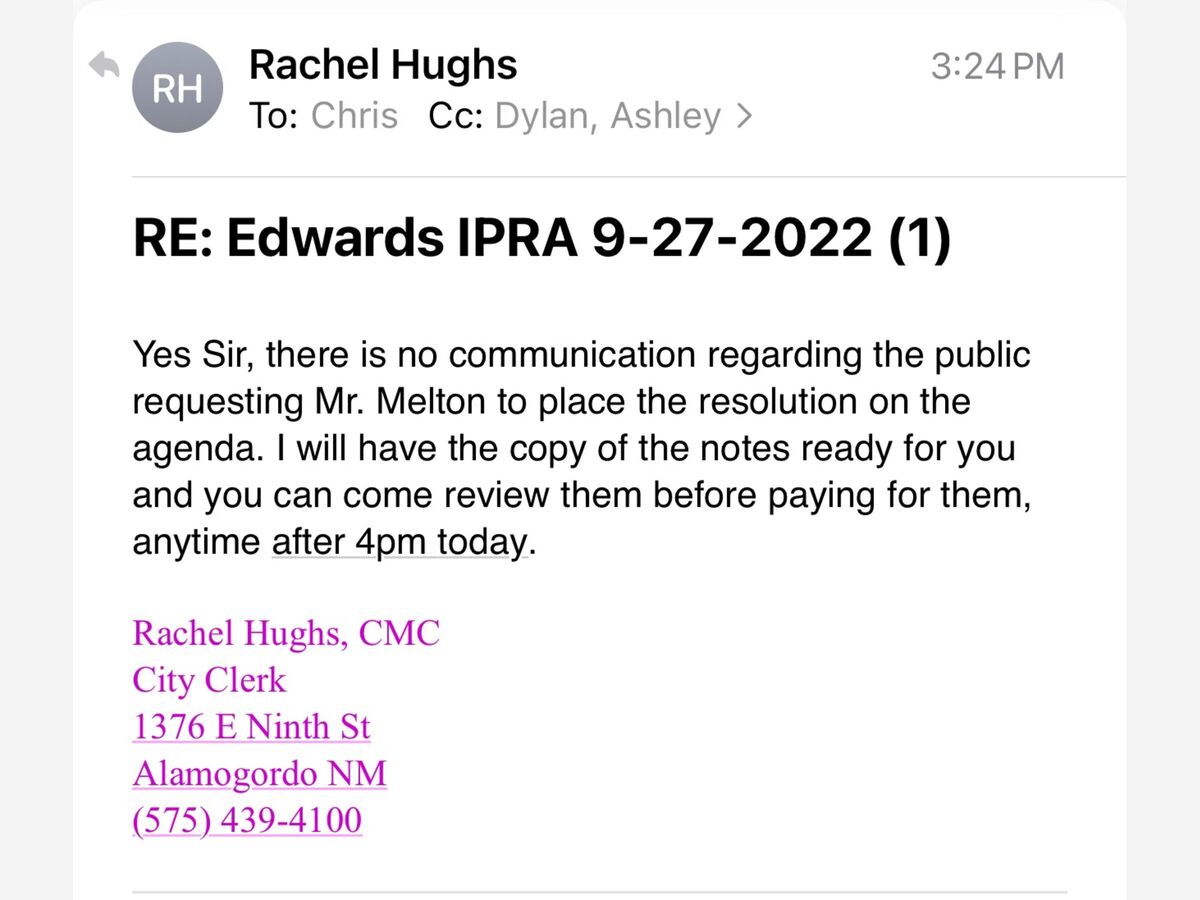 AlamogordoTownNews.com Mr Melton lied there is No communication from constituents asking for the resolution to be considered.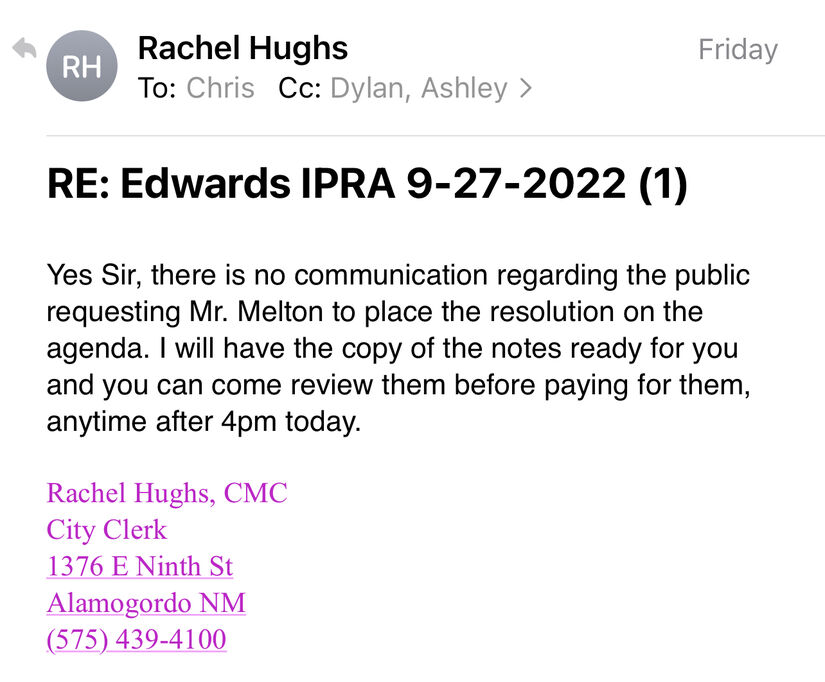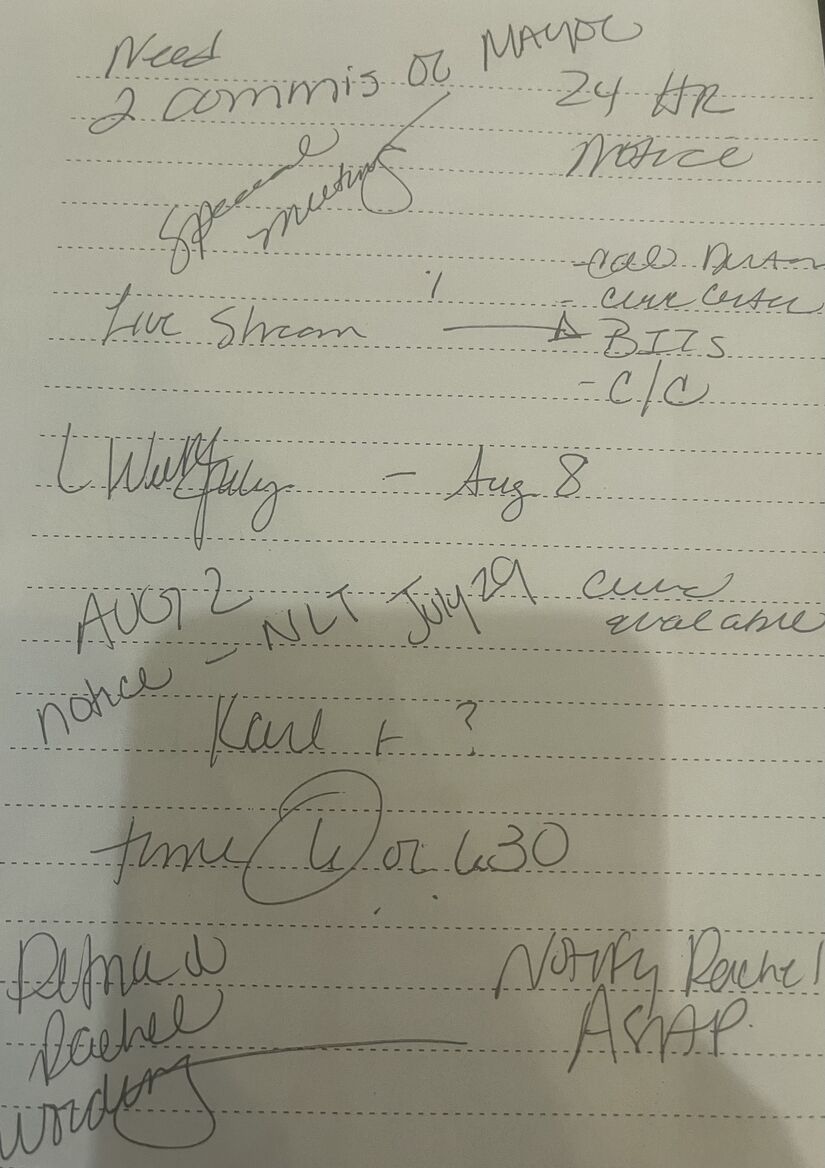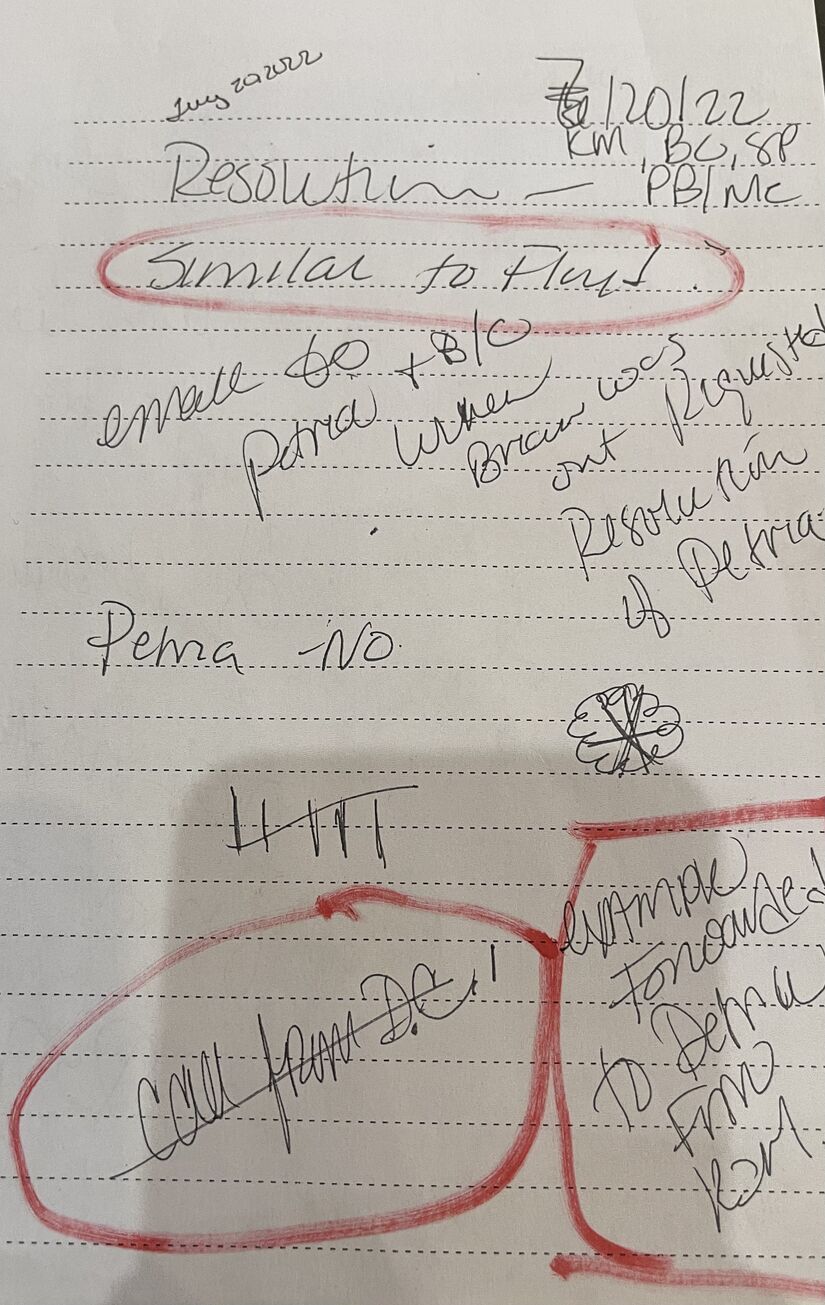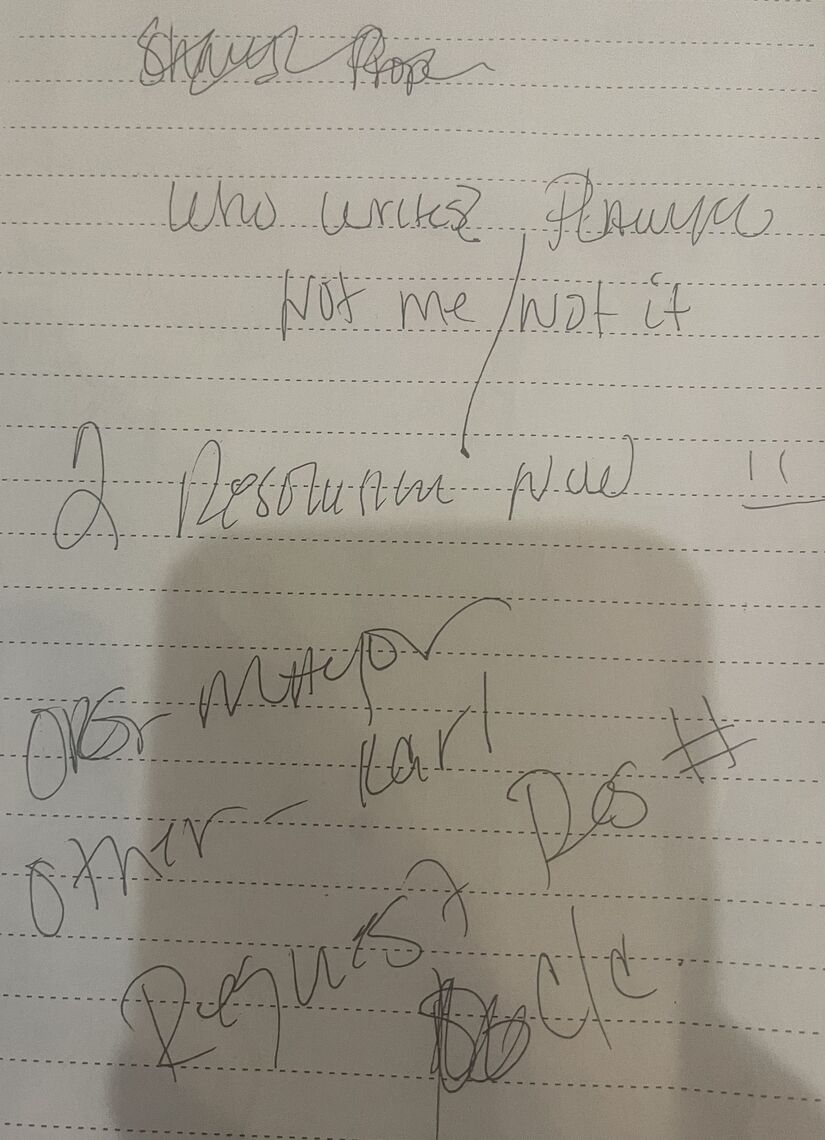 During the special session of the Alamogordo City Commission meeting on August 2, 2022, Mr. Melton went on public record and lied. If one watches the video proceeding of that day one sees at 3:57.45 when Mr. Melton claims, "the reason for bringing it (the resolution) forward to discuss is because I heard from my constituents this is what they want. I am in this role to represent them…I am here as a service to our constituents;
we have to represent them…"
NO SUCH COMMUNICATION EXISTS.
2nd Life Media and AlamogordoTownNews.com under the Open Records Act requested from the City of Alamogordo all communications from citizens "requesting that Mr. Melton place the Sanctuary City for the Unborn on the agenda as a resolution and or any communications regarding abortion and the fear of clinics in Alamogordo up to the date the resolution before the public in a "Special Session." Also requested were notes from City Staff regarding any dialog that Commissioner Melton had with staff and staff notes related to the proposed resolution regarding "Sanctuary City for the Unborn" Status and all communications from constituents 60 days prior suggesting that Abortion was a hot button issue that "required it to be addressed by the city commission."
During the special session of the Alamogordo City Commission meeting on August 2, 2022, Mr. Melton went on public record and lied. Mr. Melton claims, "the reason for bringing it (the resolution) forward to discuss is because I heard from my constituents this is what they want…"
NO SUCH COMMUNICATION EXISTS. The Melton/Block Duo lied…
The City Charter and State law requires the retention of all communications that are related to records or communications used, created, received, maintained, or held on behalf of a public body are public records just as if they were maintained by the public body itself.
(Thus, if any communication existed in a private server that is not operated by the city or notes of any calls, copies of text, social media inquiries that exist, then Mr. Melton by law was required to turn them into the city when a Public Records Request was submitted.
In this regard, if private email or other communications is used to conduct public business, (a constituent request to discuss abortion or a resolution around abortion would be public business) the email or communication, is a public record, even though a personal account is used. The person using the personal account is effectively using, creating, receiving, maintaining, or holding the data and must release it to the government body they represent and to the public if an Open Records request was submitted.
If a record exists and Mr. Melton did not release it, then he violated the law and is subject to fines and a misdemeanor.
If no records exist as per city staff, then Mr. Melton and Mr. Block lied in their assertion that this was "necessary to bring to a resolution out of constituent concern." Not one single form of communication with city representatives regarding this issue exists prior to the public forum concerning the resolution.
In an article in the propaganda blog of his domestic partner, Candidate John Block, Melton is quoted as saying…"I have brought forward Resolution 2022-38 because my constituents are worried Alamogordo has no resolution or ordinance on the books protecting unborn life. This measure not only affirms life from conception to natural death, but it declares Alamogordo a Sanctuary City for the Unborn," said Melton.
Which constituents are worried? None, Zero not a single request until they made it an issue.
Our public records request required the city to refer "all communications from constituents requesting or any dialog related to abortion and a resolution." NONE EXISTS.
This was a ruse, "an action intended to deceive the public, a trick, a sham."
It now makes sense why Mr. Melton does not support having a Code of Conduct in place for elected and appointed city commissioners. As this action crafted on deceit would be a violation of the public trust in misrepresenting a "constituent concern" that did not exist.
If the duo had been honest, they would have gone on the record and conceded that their family had financially gained from a pro-life organization via past employment and that this is an issue dear to them thus they wanted to bring it forward. An honest dialog of why it is important to them would have gained more allies, including this news source, verses deception to the public which is a violation of public trust.
And of great interest were a few elements of the staff notes procured via our Open Records request.
Staff notes referenced "Floyd"? We have an enhanced open records request seeking clarification and more information around the staff notes and rather the reference was actually to a resolution Roosevelt County passed a year ago.
Floyd and Roosevelt County verses Alamogordo, Otero County:
Floyd is a city in Roosevelt County, New Mexico, a year ago this small poor community passed, a pro-life resolution also with NO power of law.
The staff notes also referenced Karl Melton providing the staff an example resolution. As previously reported Mr. Block, Mr. Melton's domestic partner worked for a pro-life advocacy group out of Washington DC, in his past and the family connection to a pro-life Advocacy group was left out of any dialog or disclosures on the part of Mr. Melton or Mr. Block during the heat of the resolution and petition fight. (Another breach of trust by failing to disclose past financial gains from a pro-life advocacy group.)
Floyd, New Mexico is a village in Roosevelt County with a population of 91, a racial makeup of 93.59% White, 5.13% from other races, and 1.28% from two or more races. The per capita income for the village is $13,747, 19.2% of families and 41.8% of the population lives below the poverty line, including 61.5% of under 18 and 19.2% of those over 64 living below the poverty line. It is in Roosevelt County with a total county population of 18,018. The population of the county shrank 1800 people from the 2010 census to the 2020 census.
Alamogordo, New Mexico is a city with a population 31,384, a racial makeup of 75.4% White of which Hispanic or Latino were 32.0% of the classification); 5.6% African American, 1.1% Native American, 1.5% Asian, 0.2% Pacific Islander, 12.1% from some other race, and 4.2% from two or more races. the median income for a household in the city was $30,928. About 13.2% of families and 16.5% of the population were below the poverty line, including 23.9% of those under age 18 and 11.8% of those age 65 or over 64 living below the poverty line.
The contrast between these two communities in population 91 verses 31,284; racial makeup 93.59% white verses Alamogordo's more diverse, a poverty rate in Floyd of 41.8% verses Alamogordo 23.9% makes one wonder. Why would Floyd, Roosevelt County be referenced in any political dialog with Alamogordo as a "model" for public policy? One would think our elected representatives would model actions from successful communities not one with a shrinking county population and a poverty rate that has 61.5% of the children living below the poverty level.
True leadership means modeling public policy based upon successful communities.
Duplicity and Demagoguery – the Company One Keeps.
A fitting poem – The Company One Keeps
"One night in late October,
When I was far from sober,
My poor feet began to stutter,
So, I lay down in the gutter,
And a pig came near and lay down by my side.
Then we sang "It's all fair weather when good fellows get together",
Till a lady passing by was heard to say:
"You can tell a man who boozes,
By the company he chooses",
And the pig got up and slowly walked away."
Why are we focused on the Block/Melton duo?
The Melton Block duo has roused, either directly or indirectly through their surrogates to remove those that differ from their viewpoints from the party dialog. They engage in blocking dialog and profiles. To date they will not engage in civil discussion to find areas of collaboration; they see more value in attacking opponents rather then delivering an affirmative argument for their positions. It is easy to attack another of differing opinions, it more difficult to provide affirmative dialog with positive overtones to build consensus.
If we want representation within our city and at the state level to bring state funding for business growth and marketing, education, infrastructure, and support for our way of life, then leadership must show and offer positive collaborative solutions.
Our city and county deserve leadership that understands the art of horse trading and compromise. Hostility toward the power brokers up north does the region NO favors in brokering solutions.
We want a state representative and a commissioner that is looked at as seasoned professionals not one that is considered on the fringe. Fringe leaders garner headlines and build upon their personal ego but deliver little to their constituents.
Skilled moderate leaders on the other hand seek areas of compromise and collaboration to bring the best of government forward for the constituents within their district.
The Block/Melton duo have a history of partnering with those of dubious tricks and dubious reputations and tactics. A "mysterious mailer" with our business return address which is "mail fraud" went out to key Republicans in Otero County to disparage and intimidate us from questioning the radicalized tactics being displayed and reported upon.
The mailer was crafted with a specific intent to damage our business and to damage our reputation within the community. Was it sent from the candidate or the appointed commissioner or one of their ambitious followers? We hope not. The postal inspector general, the federal authorities and our private investigator will eventually have the answer to that issue and once established we will prosecute.
However, mysterious mailers and social media attacks are not new to Candidate Block and appointed Commissioner Melton, as per the company they keep. The duos associates, as reported by the New Mexico Political Journal, conducted smear campaigns against Albuquerque meteorologist Mark Ronchetti who is the Republican nominee for governor when he was running for Senator in 2020.
As reported by the New Mexico Political Journal "John Block has posted particularly ugly smears, as has Rick Montoya, and there was a disgusting letter that quite a number of delegates have said looks like the style and tone of one of (Republican Party Leader) Pearce's closest allies, John Billingsley."
Mr. Block clearly still has not backed away from the attacks on Ronchetti, he has several stories he wrote in attack of Ronchetti posted on his campaign website.
All the while Block recently paid $1000 for a sponsorship at a fundraiser for Ronchetti. Hypocrisy or attempting to coddle favors in the final weeks before the election?
The playbook of Duplicity and Demagoguery continues. However those in Santa Fe and Albuquerque are all too familiar with these characters.
Clearly, we believe in responsible government. We believe those leaders in appointed and elected positions should be examples of collaboration and seek and sponsor solutions to business growth, crime, and security.
We do not believe that there is a role for duplicity and demagoguery nor personal agendas from elected or appointed leaders.
Thus far the appointed Commissioner Melton has not sponsored a single piece of legislation or a single ordinance to address real issues within the city of Alamogordo around business growth, crime prevention nor improving core services.
The appointed Commissioner Melton and his domestic partner have sown seeds of deceit and division and conned the public into believing a non-issue was the most pressing issue facing the city.
They know better! The additional ruse against a City Code of Conduct creates an even further wedge between the idea of accountability and real responsible governance.
Instead of meeting with moderate Republicans and Independents and seeking common ground for areas of collaboration they call out those that differ as RINOS. They block us on their social media pages and attempt character attacks and try to change the narrative rather than addressing real issues and ways to compromise for the good of the community.
Block seemed to have aligned, at past state conventions, with those that are on the fringe to the traditional Republican Party platform. He aligned with those that that attacked a seated Republican Governor in the past and were part of the element within that cost the Republican Party a significant number of seats in the state assembly, all the while state houses in most states have seen gains from moderate Republican candidates.
The extremist gets headlines and feed the fury of division, all the while the moderates collaborate and drive public policy forward.
What is most entertaining is Mr. Block is a newcomer and opportunist to Alamogordo. His past life he has flip flopped in ideology. He worked for a pro-life organization and as reported by The New Mexico Political Journal concerning Mr. Block, "the irony of a former Martin Heinrich intern and volunteer for Mayor Tim Keller's campaign awarding himself the position of judge and jury of the conservative Republican purity test has been noted by many."
More entertaining is the fact he does not own these flip-flops nor acknowledge his history. Rather than embrace his past, admit to his experience, and explain what he leaned from each experience he "whitewashes it."
He whitewashed the story of his working with Martin Heinrich and tried to explain away why he worked with both Heinrich and Keller in his propaganda pages.
Note in his linked-in profile there is not a single reference to working as a Democratic Operative as a Martin Heinrich intern and a volunteer Democratic Operative for Mayor Tim Keller's campaign. He does have a link to a policy brief he claims credit for yet does not allude to the Democratic Senator he crafted the brief for. He name-drops, Republicans, all over his linked-in resume but does not dare acknowledge his work for Democratic Senator Martin Heinrich or Mayor Tim Keller though in reality those two assignments were the most prestigious of his resume excepting of course for his position in Las Vegas as a Front Desk Agent at Diamond Resorts International.
https://www.linkedin.com/in/johnfornm
The fact of him defining a RINO and who should, or should not be in the party, is classic.
According to a site called politicalfireball.comin a story posted April 8, 2020, "Block comes from deep Democrat roots and is the cousin of former Democrat PRC Commissioner, Jerome Block, who was sentenced after pleading guilty to fraudulent use of a state-issued credit card, embezzlement and election law violations. John Block's uncle has also been in and out of jail for drug use and breaking the terms of his probation."
His family experience explains his hostility toward this news source and his stance of being against "rehabilitative justice" as his family experience had run ins with the law and continued a path downward instead of a path forward.
Carpetbagger: "a person perceived as an unscrupulous opportunist"
The heat of Northern New Mexico media coverage began to impact the Block/Melton duo with another article titled Glass House John Block Exposed.

This heat and exposure with many articles attacking Mr. Block during the 2000 election may explain why the Block/Melton duo fled Northern New Mexico to seek political favor in Otero County having lived in the county less than 2 years…
Block in commentary on his propaganda page tried to "mansplain" his association with Democrats as a member of their staff.
Block: "I worked to help stop radical open-borders socialists from taking over Albuquerque by VOLUNTEERING on the Keller campaign for a little over three weeks to uncover unethical campaign practices."
Yeah right, okay, sure. Anyone who has ever worked on a professional campaign knows that a "volunteer" will never be privy to the innerworkings of a campaign, its strategy, and its internal process. There is NO WAY a "volunteer" in just "three weeks" John Block, would have had access to any information that could be used in an ethics review.
A very funny story to weave, but of course, most Americans are gullible when it comes to politics and the spinning politicians weave.
Most of the public has never seen the innerworkings of a professional campaign, and how a professional campaign staff operates, so this story would seem plausible to the untrained political novice.
But it gets better…
Per Block, "the only office that granted me an internship was Heinrich's." That in itself is a testament that Republican leaders at the time did not offer Mr. Block an internship. One wonders why?
Block continued: "I was given the selective opportunity to serve the people of New Mexico as a Senate intern and bring a conservative perspective to the far-left office… My fellow interns repeatedly attacked my Republican ideals and repeatedly attempted to have me fired from the internship, but I did not back down — and it made my conservative values and support for our 45th president that much stronger."
Or more radicalized, the duo felt the heat and fled the hot pan of Northen New Mexico politics? The Block/Melton duo fled Northern, New Mexico, for a "safe, conservative community" – Otero County. Why Otero County? If success was eminent in Northern New Mexico? – Opportunism.
The Melton Block Duo has flip-flopped on Ronchetti. One wonders if Ronchetti will remember this analysis of his senatorial run by Mr. Block?
Per John Block, "Instead of campaigning to be New Mexico's next U.S. Senator, it appears Ronchetti is more interested in playing the high school bully, name-calling, and pushing everyone in his way just to get what he wants…The nasty, bottom-of-the-barrel ad-hominem attacks on fellow Republicans, many of them being fellow candidates, prove that Ronchetti's campaign is willing to go to any embarrassingly low level to win."
Sound familiar? Appointed Commissioner Melton and Candidate Block, showed their true colors with the lies around the Resolution and should look in the mirror… "The nasty, bottom-of-the-barrel ad-hominem attacks on fellow Republicans… prove that (Melton and Block) is willing to go to any embarrassingly low level to win."
Blocks words not this commentators excepting for replacing Ronchetti with Block Melton.
Ronchetti would do well to distance hisself from this duo.
Note: the commentaries and investigations into the antics of Melton and Block will stop when they rise to the occasion of true leadership, end the attacks on those that differ in opinion and embrace open dialog with a civil tone to seek areas of compromise for a better Alamogordo. Until then, we will continue to forge forward a vision to Retake Republicanism from radicalization and bring it back to the ideals of a big tent that welcomes everyone and serves with decorum and grace. It's time the Grand Ole Party return to its roots, expels with myths and reembraces the tenants of its past glory.
STAY CONNECTED! SUBSCRIBE TO FREE EMAIL UPDATES FROM 2ND LIFE MEDIA ALAMOGORDO