Congratulations to Alamogordo Track & Field Girls on winning the 5A State Championship!
Alamogordo Girls Interscholastic Track and Field Program began in 1972 under the leadership of Coach Marilyn Sepulveda. Under her leadership she brought home the first State Track and Field Titles for either the Boys or Girls Team in 1982 when there were only 4 divisions. She won the division AAAA State titled in 1982. Following upon the legacy she built of a sound program the team won a state title again in 1990. Leading the team that season was coach Joe Jaramillo
who had been an assistant to Coach Marilyn Sepulveda. The team won the victory in 1990 in honor of Coach Marilyn Sepulveda who died of cancer in 1989. Several of her athletes carried the banner in 1990 in her honor and eventually the prestigious Coach Marilyn Sepulveda Invitational State Qualifying Meet was created in her honor.
The Alamogordo Girls went on to win a state title again in 2017 under Coach Jason Atkinson. Coach Atkinson again proceeded to carry his team this unusually difficult post Covid-19 year to a second title under his leadership winning the girls state title today for 2021. Great job Coach Atkinson!!!
The Western Sky Community Care Class 5A Girls State Track & Field Championships awarded Alamogordo Tiger Girls with the first place title with a score of 79.50, second place went to La Cueva with 53 points and the third place trophy went to Sandia with 51 points.
The High Point athlete for the day was Adriana Tatum, Sandia with 19 points.
The Tiger Girls Individual Awards went to…
 – 1st (Vanesa Najar, Gabi Sandoval, Janae Shaklee, Ellary Battle – 10:05.51) – State Record800 – Ellary Battle 1st (2:20.69)
Sprint Medley – 2nd (Rebecca Adams, Sydney Thomas, Gabi Sandoval, Michaela Neilson)
4×100 – 2nd (Yvonne Stinson, Justyse Martin, Gracie Walker, Kaelan Duchene – 47.99)
100 – Justyse Martin 2nd (12.05), Yvonne Stinson 3rd (12.15)
200 – Yvonne Stinson 2nd (25.59), Justyse Martin 3rd (25.63)
Discus – Macy Marquez 3rd (117-02)
300 Hurdles – Kaelan Duchene 3rd (46.58)
4×200 – 3rd (Gracie Walker, Kaelan Duchene, Rebecca Adams, Sydney Thomas – 1:48.94)
High Jump – Yvonne Stinson T-3rd (4-10)
4×400 – 4th (Gabi Sandoval, Justyse Martin, Michaela Neilson, Yvonne Stinson)
Pole Vault – Eva Gerou 5th (9-00)
Javelin – Sierra Lessentine 5th (105-03)- Ellary Battle 5th (5:35.42), Janae Shaklee 6th (5:37.53)
Triple Jump – Alyssa Esquero 6th (33-07.75)
Awesome job!!!!
On the boys side:]
Alamogordo High School began an organized sports program in 1912 for Caucasian boys offering PE, Track & Field and Basketball and Football.  In 1913, the authorities of the University of New Mexico believing that one of the great needs of the High Schools of the state was an opportunity to meet, at least once a year in athletic and other contests, organized the University of New Mexico Track Athletic Association. A track meet was held in the spring of that year at Albuquerque, and two high schools, Santa Fe and Albuquerque contested for the banner.
Although the beginning was small, a great deal of interest from across the state was aroused.
Alamogordo High School won its first state medals in 1916/17 School Year and they were in Track and Field via the High Jump and the Triple Jump.
Alamogordo High School boys won the first State Title under Coach Rolla Buck the year that Alamogordo integrated with High School with African American and Hispanic Athletes in 1951.
The results of the State Competition winners include…
Bobby Lee, 1st Place, 100 Yard Dash, 9.8

Bobby Lee, 1st Place,220 Yard Dash, 21.21.6
Bobby Lee, 1st Place, Long Jump, 21'-01.375
Norman Kinder, 1st Place, Pole Vault, 10'-10.50"
Benny Garcia, 1st Place. Javelin, 193'-01.325
The Alamogordo Tigers Track and Field Team of 1951/52 smashed the competition at the state finals of that year.
They took and won the state competition with 48.5 points. Albuquerque High, the 1951 State Champion scored 21.5 points less for a 2nd place finish of 27 points.
Lee in addition to setting 2 state records personally scored 24 ¾ points. He broke the state records in the 100-yard dash by .2 seconds and the 220 by .8 seconds better than the record.

Lee was also 3rd Place in Shot Put

Benny Garcia shattered the state record in Javelin 11' 3 ⅛" of 5 state records; the Tigers broke 3 of them.
Norman Kinder Placed 1st in Pole Vault with 10'-10.50"
Ed McAlpine, 2nd Place. in the state competition in Javelin behind Garcia.
Bobby Fritz, 3rd Place, Broad Jump
In the sprints in addition to the 1st Place wins of Bobby Lee, Oliver Lee, 4th Place 180 Low Hurdles.
The 880 Yard Relay Team consisting of Henderson, Fritz, O Lee and Bobby Lee placed with a 3rd place medal.
Benny Garcia shattered the state record in Javelin 11' 3 ⅛" of 5 state records; the Tigers broke 3 of them.
Norman Kinder, 1st Place, Pole Vault, 10'-10.50"
Benny Garcia went on to join the 1956 Olympics…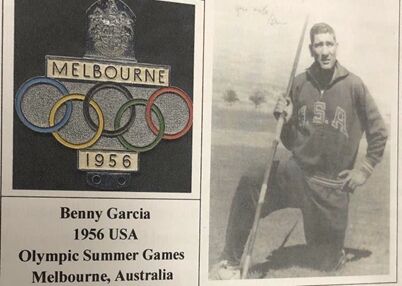 Alamogordo continued a winning tradition of building a strong track and field team and under Coach Bob Sepulveda the Boys won state titles in 1985, 1993, 1994, 1995, 1996 and under Coach Joe Bryant in 2007.
The Alamogordo Boys did a fine showing this difficult 2021 year continuing the tradition of bringing home individual medals to Alamogordo from the State.
The Alamogordo Boys finished 7th overall this post Covid 5A Track and Field Championships
Individual Scorers Boys
4×400 – 2nd (Ezequiel Barraza, Harlon Gilbert, Omar Enriquez, Gabe Kotter – 3:25.68)
Discus – Kaden LoCoco 3rd (144-08)400 – Harlon Gilbert 3rd (49.63)
200 – Harlon Gilbert 5th (22.76)
Long Jump – Harlon Gilbert 5th (21-04)
4×800 – 5th (Aiden Kepfer, Celso Garcia, Isaiah Dalmas, Omar Enriquez – 8:37.97)
Congratulations to these young men for their commitment and determination to carry on a tradition of Tiger success.
Congratulations to ALL of the athletes that competed this most difficult season, you are each winners and demonstrate the best of New Mexico pride!
To learn more of the history of Alamogordo Track and Field check out Coach Robert Sepulveda The Early Days Book 1 – part of a 3 part book series on Alamogordo Athletics and its history from 1912 to 1976 is Available at Roadrunner Emporium, 928 New York Avenue, Alamogordo, New Mexico or on Amazon and available in 36 countries. Book 2 the Alamogordo Track and Field History and all district and state title holders named from 1976 to 1996 will be available soon!
Some video highlights of the Alamogordo Track and Field 2021 Season and heading to the state meet!<!– EMBEDDED YOUTU.BE URL: https://youtu.be/MeOik5IuLkA –>