The road to legalization of recreational marijuana use in New Mexico has been a mixed and complex journey which finally culminated on the legislature approving and the governor signing into law legalized marijuana in the state of New Mexico. Effective June 29th, 2021 possession of marijuana is no longer a punishable offense by city nor state law.
However. be careful on Federal lands and at border control checkpoints. It is still a violation of Federal law to be in procession of marijuana so technically a border control agent at a checkpoint or on any Federal lands if in procession of marijuana one is in violation of Federal laws.
The road to legalization has been a mixed one, locally in Otero County and the city of Alamogordo politicians have been mixed in their support of the changing laws.
In Tularosa, Mayor Margaret Trujillo was happy that the new cannabis bill passed the state legislature.
She told the Alamogordo Daily News Reported Nicole Maxwell in March per an Article in the Alamogordo Daily News April 3, 2021; "I think it was a fantastic idea. I'm glad that it was finally done," Trujillo said. "I think were several years behind the whole thing. I mean other states have done the same thing and they have raked in lots of money and we're (New Mexico) barely getting started. At least we're getting there."
On the flip side of the coin, Alamogordo City Commissioner, Susan Payne seeing the writing on the wall, has shown support in voting to align local laws with the state laws concerning marijuana, yet she has issued a statement in opposition to marijuana decriminalization law revisions.
During a revision to the local laws to align decriminalization to the state laws in July of 2019, Commissioner Susan Payne, issued a statement in opposition to decriminalization of marijuana laws. The city commission voted to update an ordinance regarding unlawful possession of marijuana to be in line with a new state law in 2019.
Per the city attorney "It decriminalizes the first offense up to half an ounce, just to make it easier for everybody, we are staying right in line with the state just as we do with all of our ordinances," City Attorney Petria Bengoechea said before commissioners.
The motion to update the ordinance passed unanimously at the meeting, but Commissioner Payne was not happy with the outcome. District 3 County Commissioner Susan Payne voted in favor of the motion but said she disapproved of the ordinance changes after the vote per the Alamogordo Daily News report of July 25th, 2019; "Professionally speaking, I think that we do need to be in line with the state but personally, no I am absolutely not in favor of this and I just wanted to make that clear,"
Payne said.
Meanwhile, Marijuana legalization means JOBS for Alamogordo, Tularosa and Otero County citizens.
Just outside the Tularosa Village Limit is Ultra Health's hemp farm. Through this farm legal marijuana means JOBS for the Otero County community and Southern New Mexico. This company is building the largest cannabis cultivation site in North America. Ultra-Health is New Mexico's #1 Cannabis Company and the largest vertically integrated medical cannabis provider in the United States.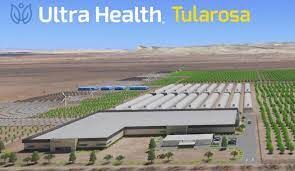 Ultra-Health is expanding its outdoor cultivation capacity with the acquisition of 150 acres of additional farmland and more than 750 acres of water feet in Tularosa, New Mexico. The operator purchased an initial 200 acres of farmland and 1,000-acre feet of water in the same area in early 2018.
Between all its operations, Ultra Health has more than 15.8 million square feet of retail, production and cultivation space and has already invested more than $30 million into the New Mexico cannabis market. Ultra-Health's 2020 expansion efforts exceeded $12 million including constructing a new, state-of-the-art, 35,000-square foot greenhouse on its Bernalillo campus as well as the purchase of HQ1, a 35,000-square foot commercial building in Albuquerque that will serve as the organization's New Mexico headquarters.
The provider currently employs nearly 300 New Mexicans and plans to hire several hundred more employees to satisfy retail, cultivation, packaging, distribution, and professional services required to support both increased medical patient and adult-use demand for commercial cannabis activity. With the expansion of the facilities new Tularosa, it means jobs for Otero County residence.
The Law and How it Impacts Citizens Daily:
The verbiage of the law can be found at https://www.nmlegis.gov/Sessions/21%20Special/final/HB0002.pdf
On June 29th, 2021, cannabis or more commonly referred to as marijuana, will be legal to possess or use in New Mexico by adults aged 21 years or older.
How much possession is allowed after the 29th?
Up to 2 ounces of cannabis;
up to 16 grams of extract;
or up to 800 milligrams of edible cannabis.
Where can I consume marijuana legally after the 29th?
Like alcoholic beverages, public consumption of cannabis is limited to licensed "consumption areas" where it may be served and consumed — and those don't exist yet. Consuming cannabis elsewhere in public could get you a $50 ticket. So, if you have your marijuana don't smoke it out in the public but you may in your house or backyard.
Private property owners and businesses can forbid it, and your workplace can institute zero-tolerance policies against it. Under federal law, "marijuana" is a Schedule One controlled substance, classified with heroin and other narcotics, which means any amount is forbidden on federal territory so do not take it to the base or Federal public lands.
Where can I buy it?
Legally, nowhere in New Mexico yet, unless one is a registered medical cannabis patient who buys medicinal products at licensed dispensaries. For non-medicinal cannabis, the state has until September to begin processing business licenses and until January to establish rules for producing, marketing, and serving cannabis. Retail sales are to commence no later than April 1 of next year, if not sooner.
And yes, that means for a few months, possession of small amounts of cannabis will be decriminalized while it is not yet legal to buy or sell it in the state but of course you can pop over to Colorado or Arizona where it is legal and buy from one of their dispensaries until April 2022 in New Mexico.
Or of course you can plant it between the tomatoes or in your flower garden…
The law permits individuals up to six mature cannabis plants and six immature plants, or a maximum of 12 in a household with multiple residents. The law also says you can make edibles or extracts — with nonvolatile solvents, alcohol or carbon dioxide or no solvents.
Whatever the case, on June 29th in New Mexico, Otero County and Alamogordo you can roll yourself a joint, and you can share some with a friend if they are at least 21 years old and with that a new era begins.
For some there will be the flashback to the 60s and a reminder of the song by the 5th Dimension The Age Of Aquarius, Let the Sunshine In!
When the moon is in the Seventh House
And Jupiter aligns with Mars
Then peace will guide the planets
And love will steer the stars
This is the dawning of the age of Aquarius
Age of Aquarius
Aquarius
Aquarius
Harmony and understanding
Sympathy and trust abounding
No more falsehoods or derisions
Golden living dreams of visions
Mystic crystal revelation
And the mind's true liberation
Aquarius
Aquarius
When the moon is in the Seventh House
And Jupiter aligns with Mars
Then peace will guide the planets
And love will steer the stars
This is the dawning of the age of Aquarius
Age of Aquarius
Aquarius
Aquarius
Aquarius
Aquarius
Let the sunshine, let the sunshine in, the sunshine in
Let the sunshine, let the sunshine in, the sunshine in
Let the sunshine, let the sunshine in…
Given the modern political climate of our time, a look back at the age of Aquarius and letting a little sunshine in would be a particularly good thing.
STAY CONNECTED! SUBSCRIBE TO FREE EMAIL UPDATES FROM 2ND LIFE MEDIA ALAMOGORDO